Here's how to get your (bronzed) glow on!
While you might not have a bronzed (potentially faux) glow just yet, it doesn't mean that you can't sport a natural-looking bronzed base. In this blog post, we've asked Global Senior Artist Carol Mackie to share her top tricks and techniques for achieving a naturally bronzed and glowy makeup look. Get ready to embrace sun-kissed skin with these expert tips!
What is a Bronzed Glowy Makeup Look?
A bronzed, glowy makeup look is an application technique that makes your skin look like it's been kissed by the sun, similar to how it might look after a day at the beach. It involves using bronzing products to add warmth and radiance to your complexion, giving you a natural and healthy glow.
How Do You Make Bronzy Makeup Look Natural?
To achieve a natural bronzed makeup look, it's essential to choose bronzing products with a lightweight and buildable formula that offers a soft-matte finish. This will help create a natural-looking complexion. Finding the right balance between cream and powder products is also important, depending on your skin type.
How to Achieve the Perfect Bronzed Makeup Look
Learning how to apply bronzer to create a flawless look is not limited to the bronzing product itself. There are a range of other products and steps that help to make the final makeup look seamless. Follow this step-by-step guide to achieve the perfect bronzed makeup look:
Step 1 - Prep the Skin for the Perfect Base
After cleansing your face, start by using our Hyper Real Skincanvas Balm. This moisturising cream strengthens and protects the skin's barrier while providing a smooth canvas for your glowy bronze makeup. If you want an extra glow, you can also add our primer or Strobe Cream to enhance the luminosity of your skin. A solid base is a must-have for any bronzed makeup look.
Step 2 - Apply Your Favourite M·A·C Foundation
Choose a lightweight foundation like Studio Radiance Face & Body Radiant Sheer Foundation or a tinted moisturiser such as Strobe Dewy Skin Tint for a natural look. Apply it evenly across your face to create a beautiful base that allows your bronzed complexion to shine through. If you are someone who prefers heavier coverage or to completely conceal all blemishes, feel free to layer your foundation to achieve the desired effect.
Step 3 - Choose Your Bronzer Shade and Formula
Selecting the right bronzer shade and formula is crucial for achieving a natural bronze makeup look. Consider our Skinfinish Sunstruck Bronzer, available in both luminous radiant and matte finishes. With 15 stunning shades to choose from, you'll find the perfect match for your skin tone. These bronzers offer a silky, lightweight texture and 24-hour long wear.
As Mackie mentions, "I'm forever searching for the perfect bronzer and can never find enough shades to enhance different skin tones. I always seem to find they are too orange on the skin. I'm super excited for Sunstruck Bronzers in 15... yep, 15 stunning new shades! I love to warm and contour at the same time, so I can't wait to use these powders on their own or together for contouring below the cheekbone with the matte finish and sweeping across the cheeks towards the temples with the radiant finish powders."
While the idea is to give your skin a sun-kissed finish, you need to ensure you find the shade that is complementary to your complexion. "If you have a fair skin tone, avoid deeper or orange hues and instead, select a shade that's not too gold or orange in tone and has cooler undertones to it. That way, the bronzer can be used to contour as well as to warm up the face," explains Mackie. For more golden skin tones, she suggests warmer shades of bronzer, and for deeper skin tones, opt for rich and dark shades.
It totally depends on your personal preference, says Mackie. "Cream formulas blend really easily and look fresh and youthful, so they're ideal for normal to dry skin and more mature skin types." For oily skin, a powder will work well. "I love to use a combination of cream and powder formulas to warm up the skin and contour slightly", she says.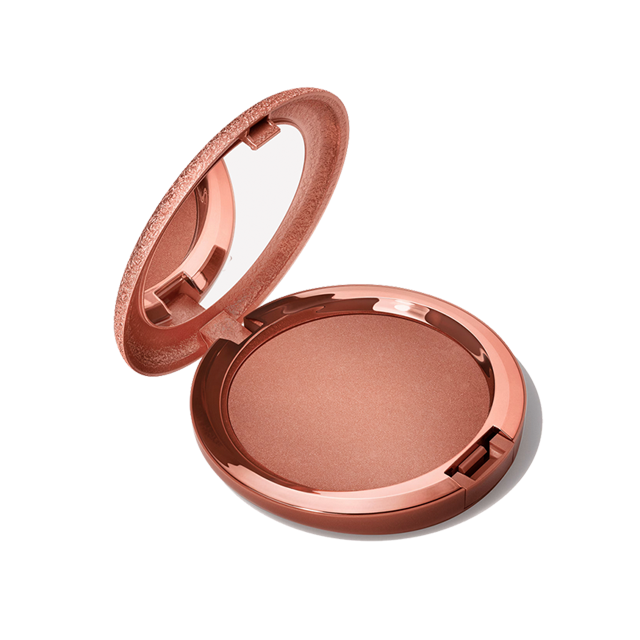 Step 4 - Apply Bronzer to Add Warmth to the Skin
For a natural bronzy makeup look, use a large fluffy brush like our 168 Large Angled Contour Brush to apply your bronzer. Start by warming up the forehead, blending into the temples, and wrapping around the contour of the cheeks. Remember to take your bronzer down to the neck and décolletage to ensure a seamless and natural transition. Blend it well, especially around the hairline, to avoid any harsh lines or excess bronzer.
Step 5 - Set Your Bronzy Makeup Look in Place
Once you've finished applying the rest of your makeup, lock in your bronzed makeup look with a setting spray. Setting spray is key if you plan to wear your makeup out and about. This will not only set your makeup but also add hydration to your skin, giving it a radiant and dewy finish.
Achieving a naturally bronzed, glowy makeup look is all about finding the right products and techniques. With the tips shared by Carol Mackie and the range of M·A·C products available, you can create a sun-kissed complexion that looks effortlessly beautiful. Embrace the warmth and radiance of a bronzed makeup look and enjoy the natural glow it brings to your face.