IN GLOBAL HEROES, WE SHINE THE SPOTLIGHT ON REGIONALLY CELEBRATED STARS WHO ARE MAKING A GLOBAL IMPACT
Flashing moon-sized eyes and shy smiles at the camera, Daddoa has shot to fame at the age of 19 demonstrating makeup routines for her enormous fanbase: young women hesitantly navigating a dizzying universe of cultural messages in Korea and China. Trusted and revered, Daddoa is the ultimate ambassador of teen beauty; her videos revel in girlhood, teach teens to shine in their own skins and are ultra-accessible. Her guide to student makeup alone has now amassed over 2.5 million views on YouTube.
Years ago, Daddoa chose to drop out of high school and set her sights on the world of beauty blogging and vlogging. The high-stakes decision, coupled with dedication to her craft, has paid off in spades, as she is now a major influence for one of the most influential groups of millennials in the world. Here, she discusses internet success, the importance of colour and Korea's hyper-bright place on the world's stage.
You have a very passionate, adoring teenage following in Korea and China. Why do you think the younger generation looks to you for guidance and inspiration?
I think it's because I create videos that align with followers' interests. I often produce guides about practical daily makeup, such as transparent makeup, which perfectly suits young students.
Do you think there will be more opportunity to experiment with makeup for your generation?
Previously, foreign viewers watched Korean makeup videos because they were interested in K-pop and boy/girl bands. Now K-beauty is becoming known around the world, and more and more foreign viewers have also started loving K-beauty trends and tutorials. I believe this trend will keep developing. Though K-beauty is known more for its light, practical style, as more colour cosmetics are developed by Korean companies for our generation, there will be a big wave of changes with colourful makeup.
"K-beauty is becoming known around the world, and more and more foreign viewers have also started loving K-beauty trends and tutorials" – Daddoa
What made you decide to drop out of school to pursue blogging?
I graduated from an international middle school with a U.K.-type curriculum. As I moved onto an ordinary Korean high school, I was completely overwhelmed by unending daily quizzes, tests, exams, evening self-study and so on! My home to me, at that time, felt like a place where I slept but didn't live. I had a serious talk with my parents and finally decided to withdraw from high school. I had very difficult time during the first half year because of my sense of guilt. In an effort to overcome this, I decided to begin a beauty blog, and this became a turning point in my life and the point when I gained some degree of fame.
What advice would you give to others who want to share their passions through social media?
I would advise them to express themselves on social media consistently. Ever since I started my blog three years ago, I uploaded content on a daily basis. I believe such passion and consistency make people think of beauty when they think of my name.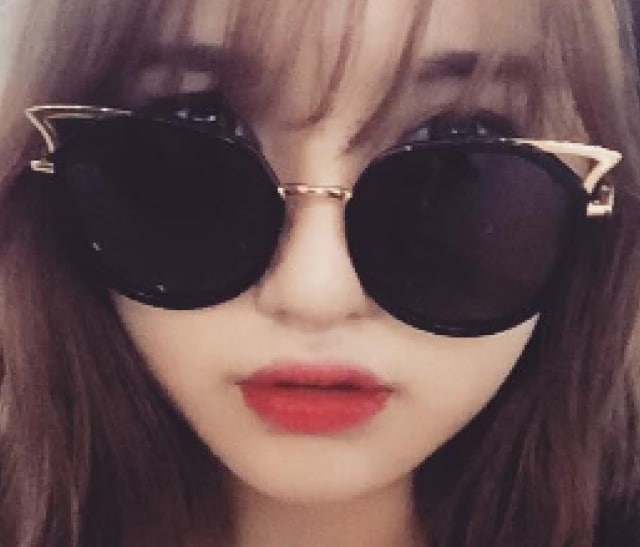 If you could make any look – from any place and time in the world – fashionable right now, which would you choose?
I'd like to go back to the medieval era! So I can create a glamorous and elegant makeup look to accompany the era's fancy dresses and accessories.
What is the most important thing you'd like to teach your audience?
The most important thing I teach my audience is how to use combinations. I not only consider colour on eyes, lips and cheeks, but also try to create various looks and moods by using contact lens colours. Blending different colours can create different looks and use of harmonious colours can create a more relevant style for an individual.
A lot of innovation in the beauty industry is coming from Korea. What are your thoughts about this?
Lightful C SPF50/PA+++ Quick Finish Compact is one of my top five favorite cushions. This is probably due to M·A·C's wonderful cushion technology, which originally came from Korea. It perfectly blends into your skin and has a silky finish. The quality of the product is incomparable.
Is there a trend you've seen while traveling that you'd like to bring back to Korea?
During my last trip to Japan, I saw lots people doing igari makeup, which applies a very red cheek colour under the eyes. It was nice to see it because I created a tutorial video about it when the trend was first a hit.
What is it like being a young woman in Korea today, immersed in so many explosively popular trends and media phenomena?
I'm very grateful and honored to live in Korea in this era. I believe such phenomena have made it possible for me to become influential while doing something I love. I just want to continue to create more guides that can help more and more people.