Find your perfect match from over 65 shades in Studio Fix Fluid SPF15 Foundation
On the hunt for a long-wearing foundation? Or perhaps you haven't quite found the perfect shade to suit your skin tone and type? Discovering the perfect foundation that ticks all of the boxes is one of the trickier building blocks of creating the dream makeup bag, however there's one foundation that has stood the test of time and has continued its reign as a best-seller both in Australia and around the world. Known for its flawless, natural matte finish, long-wearing, oil-controlling formula and its extensive shade range (we're talking over 65 shades here!), Studio Fix Fluid SPF15 Foundation is one base product that everyone needs to own.
We've asked Global Senior Makeup Artist Carol Mackie for her insight on how to apply it, when to wear and just why it has earned a coveted spot in her makeup kit.
Q: How would you describe Studio Fix Fluid SPF15 Foundation?
A: "It's the perfect modern matte, creamy foundation that's super quick and easy to apply," says Mackie. "With a soft velvet matte finish, Studio Fix Fluid SPF15 Foundation helps to controls shine, evens out pores and leaves a smooth, medium to full coverage finish. Not to mention it has the added benefit of SPF15, plus skin-loving ingredients like algae extract to give it that extra moisturised comfort and also silica to give the appearance of a smoother, more even texture."
Q: For those that avoid matte foundations because they have a dry skin type, can they use it?
A: "Yes, absolutely!" says Mackie. "I love the way Studio Fix Fluid SPF15 Foundation perfects and lasts all day; my skin type is super dry, mature and sensitive but I can still wear a matte finish foundation if I prep my skin the right way beforehand. I always begin with Fix+ Magic Radiance mist spritzed liberally all over my face to soften, moisturise and hydrate. I then massage in Prep + Prime Essential Oils in Grapefruit and Chamomile and finish with a layer of Complete Comfort Cream, which is perfect for sensitive skin and reduces any redness. Depending on how dry your skin is, you could skip using the oils and just use the Fix+ Magic Radiance and Complete Comfort Cream – you can customise this line-up to cater to your skin type."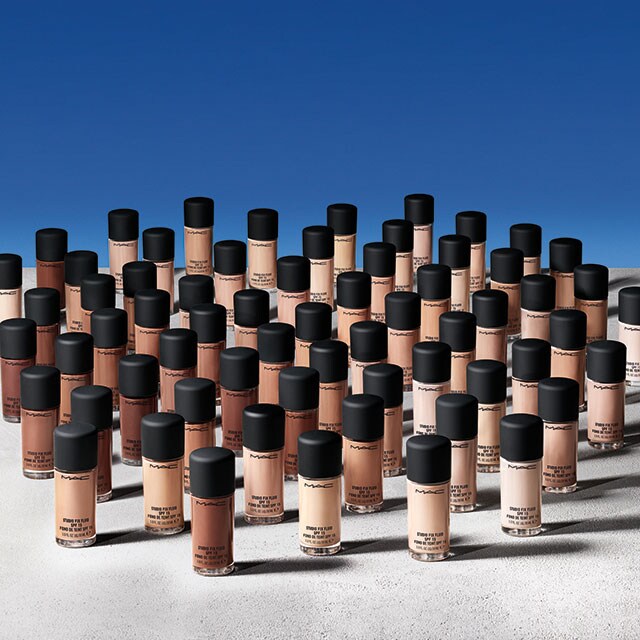 Q: What about for oily skin types? What should the skin prep involve when using Studio Fix Fluid SPF15 Foundation?
A: There are a few things to consider, depending on the level of oil in your skin throughout the day and how quickly your skin becomes shiny, says Mackie. "Prep the skin with Fix+ to add hydration; skin can often be super dehydrated through the outer areas of the face and oily through the T-Zone. Apply Prep + Prime Time Check Lotion to prep the skin; it's a super-lightweight gel primer that saturates the skin with hydration whilst blurring fine lines and wrinkles…and who doesn't want that! For excess shine, try one of my all-time favourites, the Prep + Prime Pore Refiner Stick. You can literally swipe this magic little stick on any areas that get really oily and reduce the look of pores whilst absorbing oil, both under and on top of makeup throughout the day!" 
Q: What should you use if you need to touch-up throughout the day?
A: "Studio Fix Powder Plus Foundation is an amazing foundation that you can use on its own, brushed on lightly or sponged on for full matte coverage," says Mackie. "However, when applied over Studio Fix Fluid SPF15 Foundation, it will build up your foundation, add additional oil control and leave a sophisticated, smooth matte finish. It's the perfect foundation compact that comes with a sponge, so it's simple to use for touch-ups and quickly evens out skin tone whilst adding coverage."
Q: What are your top applications tips for Studio Fix Fluid SPF15 Foundation?
A: "Firstly, always a brush to apply your skincare and foundation. This isn't just for makeup artists it really makes all the difference to the speed and finish – it's faster, easier and gives a polished, professional finish," explains Mackie. "I use a 170 Synthetic Rounded Slant Brush; it's a dense, full, firm brush that allows you to massage in skincare and foundation. Always apply the skincare beginning at the centre of the face working outwards and upwards to lift the skin. Then, apply a small amount of foundation (about the size of a pea onto the brush) ad begin at the centre again but this time work outwards and down the neck to smooth any fine hairs rather than lift them, stippling the foundation onto the skin and using a tapping motion with the brush if you have any areas where you want more coverage. To finish, apply Studio Fix Powder Plus Foundation and dust lightly with a soft, fluffy powder brush or use with the sponge supplied.