Score a FREE 170 Foundation Brush When You Buy Studio Fix Fluid Foundation and Studio Fix Powder!
You've no doubt heard about the iconic Studio Fix Fluid SPF15 Foundation. The medium to full-coverage formula gives the skin a natural matte finish, and it's easy to apply, blend and manipulate for all skin types to achieve your desired level of coverage. Available in over 65 – yes, you read right – shades, the foundation has found popularity in the makeup bags of women everywhere, and is also used frequently on the red carpet and backstage at fashion week.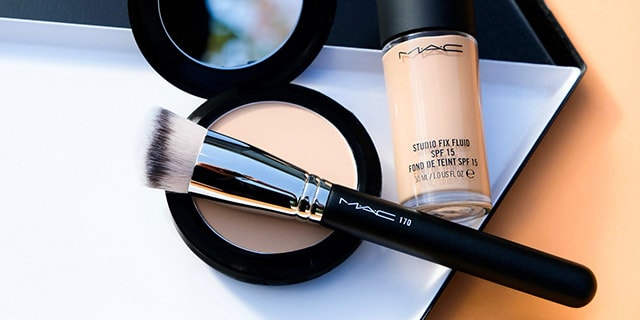 You also need to get it know its powder counterpart (if you haven't already been acquainted). "Studio Fix Powder Plus Foundation is a powder-and-foundation compact in one, making it easy to apply and great for touch-ups," says global senior artist Carol Mackie. "It's a really versatile product that can be worn along sponged onto well-prepped skin, or applied over the top of your [liquid] foundation with a sponge or brush."
The good news is, whether it's time to stock up on a new bottle, or you want to try it for the first time, we have the ultimate offer; all you need to do is buy one bottle of Studio Fix Fluid SPF15 Foundation and the Studio Fix Powder Plus Foundation in the one transaction and you'll receive a FREE 170S Synthetic Rounded Slant Brush (valued at $78), the ultimate applicator to ensure a smooth, flawless finish. "The brush is really dense, so it feels like a massage when you're applying your foundation," says Mackie. "I like to use it in an upward lifting motion, which allows the product to sit on the surface of the hairs because of the density, and not go back into the brush." The result? You use less foundation and get a really smooth application and blend.