Introducing... M·A·C Glow Play Blush
When blush meets serious glow
Blush has forever been a consistent in makeup routines around the globe – we're talking way back in the time of the ancient Egyptians – and while we're sure that you don't need convincing that it deserves to play a starring role in your daily regimen, we're going to run through its highlights anyway. Not only does blush work to liven up and bring warmth to your complexion, it comes with incredible transformative properties depending on the placement of your powder (or cream or liquid), it can appear dramatic, delicately pretty, or bold and bright. Regardless, blush always serves up a healthy-looking complexion with the flick of a brush, which is why we couldn't be more thrilled with the latest addition to M·A·C's blush line-up.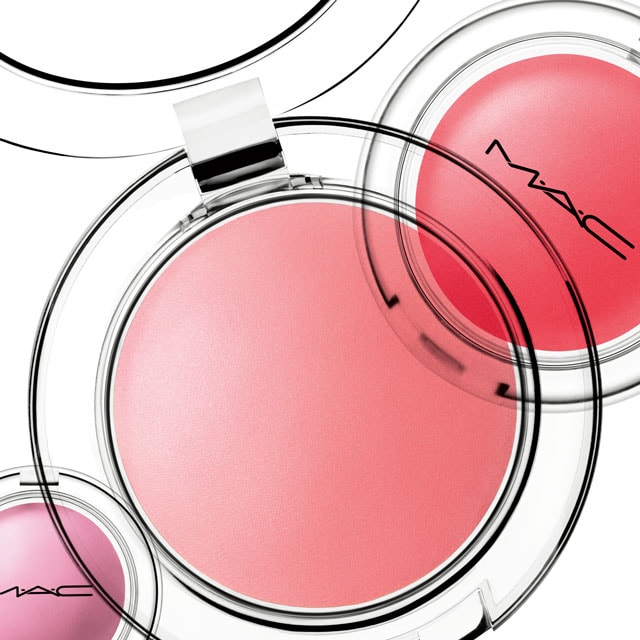 Introducing M·A·C's new Glow Play Blush collection, which combines the glow of a highlighter and bold, yet wearable pigment that give a serious lit-from-within radiance. It comes in 11 shades ‑ more on that later ‑ but what we're falling hard and fast for is its unique jelly-like texture. It blends like a dream onto the skin leaving no harsh edges or lines, and the good news is that you can just as easily apply with your fingers to achieve a sheer, natural hint of colour, or use a brush and layer it up for a vibrant, dynamic approach.
Whether your preference veers to peach or pink or purple, within the 11-strong shade selection you'll be sure to find a favourite.
Heat Index…A brighter-than-bright pink where you can control the intensity
No Shame!...A pretty rosy pink that wears beautifully on the apple of the cheeks
Grand…This petal pink is sweet but not at all saccharine
Blush, Please…A light mauve tone that looks super natural
Cheeky Devil…A classic light pink that will be high on rotation
That's Peach…Peach blush fans, this one's for you
Cheer Up…The perfect balance between pink and peach
So Natural…Natural beige in tone but flecked with golden highlights
Groovy…Not for the shy and retiring type, this vibrant pink-coral will be a stalwart this season
Totally Synched…We love this modern take on pastel lilac
Rosy Does It…A rich, regal purple that demands attention