Made for Fashion pairs leading fashion designers and makeup artists for a candid conversation about creativity, collaboration and catwalks
"Leaving something incomplete makes it interesting and gives the feeling that there is room for growth." That's a 12th-century quote from the Japanese author Yoshida Kenkō that inspired Damir Doma's latest womenswear collection, presented in Milan for the first time last September. While the quote was specifically about his SS16 raw-edged and diaphanous collection filled with transparent textures, it also neatly applies to Doma and his trajectory as a purist and nuanced designer, journeying from Croatia to Germany, setting up his label in Paris in 2006, and recently moving the brand to Milan.

Michele Magnani, M·A·C Senior Artist, was on hand to ease Doma into his new Italian surroundings, and has been responsible for creating makeup looks for both of Doma's Milanese shows. Here, they discuss the nature of collaboration, creating a different kind of natural beauty, and adapting to the Milano way…
Michele Magnani: For me, he's one of the most talented designers. My first impression of Damir was the essence of his woman. When I saw his clothes in the showroom, everything was very minimal but strong at the same time. I felt good vibrations from him.
Damir Doma: It's not easy to find somebody who can understand your sensibility and is able to translate it. It's really crucial because it can make or break it. It can make things look incredible. Or the worst thing is if you finish a show and end up with the wrong hair or makeup. It's about trust. Even if I have a little bit of a doubt, it starts to become painful and freak you out.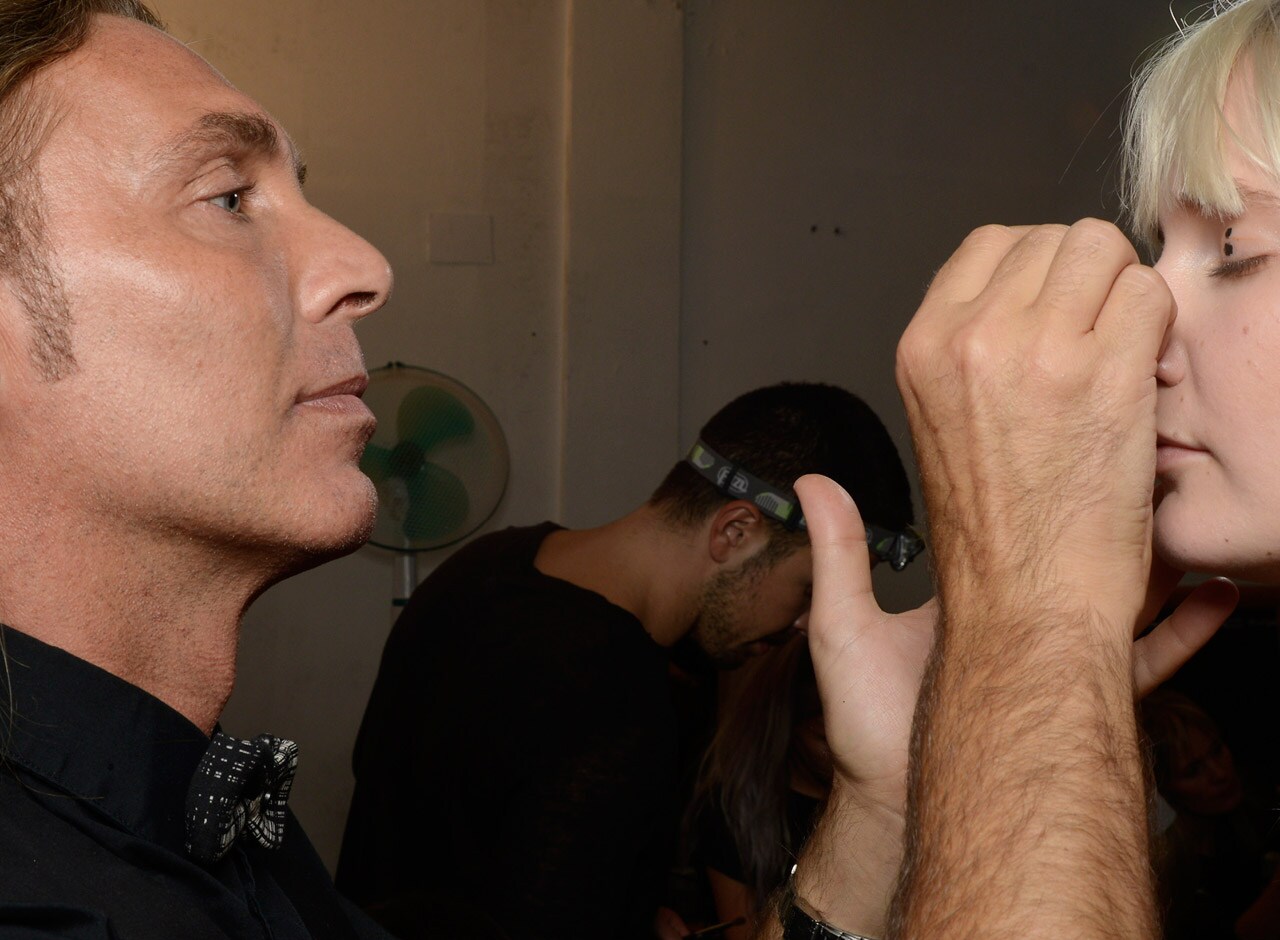 "It's not easy to find somebody who can understand your sensibility and is able to translate it." – Damir Doma
Michele: I think it's important that a makeup artist gets a very clear brief. People get confused if you don't have the right tools for the job. With Damir, it was very clear from the beginning.
Damir: I like to keep things simple but still mysterious. It's personal taste. This particular collection is very texturized. The show is held in a garage and the light comes from the ground. It's very incomplete and raw and I want to reflect that in the look. It sounds simple but it's much more complicated.
Michele: For me, this very natural beauty means something realistic, something transparent. It's important when you use foundation that you use the best ingredients. If not, then it looks like a mask. The new technology in the products really helps us. It's not heavy or fake, like a mannequin.
Damir: This is why I depend so much on these guys. I know what I want but I don't know how to get there! I can tell you what the attitude is, how her eye is, how her hair is. I have a lot of trust in Michele. I try to let people do their thing. Whether it's hair, makeup, styling or journalism, I just try and let them get on with it.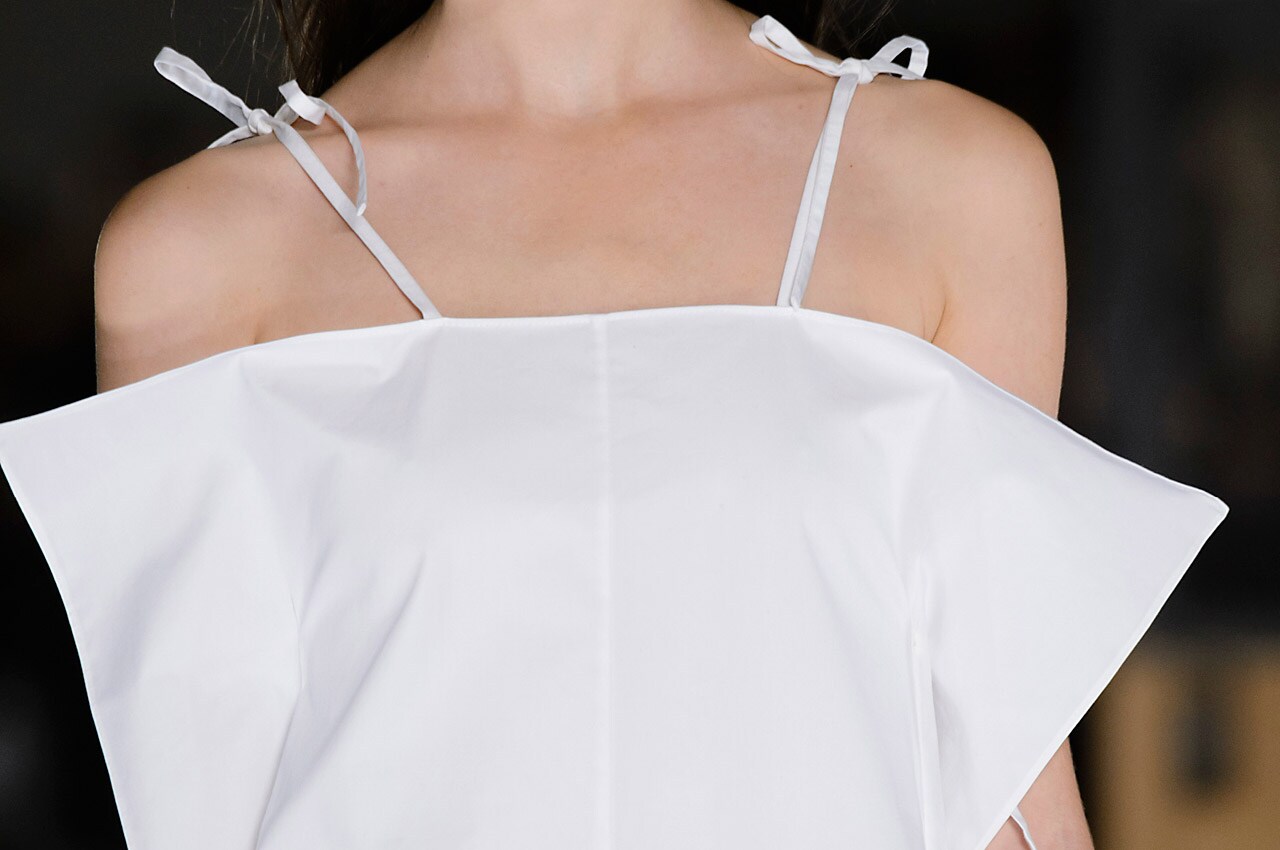 Michele: For this show, I will play up different textures, extra volume on the face. There's a lot of transparency in the clothes. We're going for mysterious but clean.
Damir: I get the feeling that expectations are different now I'm in Milan. In Paris, I never felt like a Parisian designer, and now I'm in Milan, I'm not going to be a Milanese designer. I'm not going to play that game. For me, it's about taking that aesthetic and putting it in a new surrounding, bringing a new point of view.
Michele: Milan needs a designer like Damir! Fashion in Milan has a very different mood. He's more a conceptual designer. I'm happy, because I'm Italian. In Italy, everything is so commercial and Damir really stands out.
Damir: Actually, I want to be commercial! I'm joking, but some people have said that's the sort of change they expect. I came here because my clothes are produced here. I just wanted to get closer to the place where all the actual creating and all the technical aspects are born.