IN GLOBAL HEROES, WE SHINE THE SPOTLIGHT ON REGIONALLY CELEBRATED STARS WHO ARE MAKING A GLOBAL IMPACT
Kyary Pamyu Pamyu has a song called "Kira Kira Killer" which translates to "Sparkle Killer," a title that perfectly juxtaposes the sweet and slightly insane qualities that this 22-year-old Japanese pop singer holds dear. She is a Lewis Carroll invention come to life for the Tumblr generation, a one-girl revolution churning out Jabberwocky-level pop tunes packaged in even more surreal music videos. In three minutes, she'll change wigs five times, scamper around with dancers with skull balloon heads, fall down mystical cartoon wells, and wear dresses that resemble dripping ice cream and mutant teddy bears. And that's just ONE ultra-vivid music video to digest – "PONPONPON," Kyary's biggest track to date with over 75 million Youtube views. Katy Perry could weep in envy (but instead tweeted her admiration.)
Now armed with hot new tracks in English, an American record deal and even the attention of Vogue, she's poised to break out of the box elsewhere, too. Don't think you have her pegged as a Gothic Lolita on a sugar high, though. As she explains - whatever you expect from her, she aims to lead you astray…
You've described your breed of kawaii/guro-kawaii (a Japanese subcultural trend focused on subversive cuteness) as "poisonous" – how does that direct the style choices you make?
I don't like to be looked at as the same as others. Since I was young, the idea of being "poisonous" attracted me: that idea of cute style with unexpected decorations that can't be found anywhere else.
You got started as a fashion model. How did you end up crossing over into music?
When I was a high school student, I had hosted an under-20 DJ event with a producer, Mr. Yasutaka Nakata (of CAPSULE). Nakata-san said to me: "Kyary, it would be awesome if you sang." I suddenly got my chance for a debut. I've liked to dance and sing since I was young, but never expected to be an artist. It reminds me that sometimes miracles happen.
What musicians inspire you both in sound and style?
Katy Perry is definitely inspiring to me. She is the strongest artist who has beauty, amazing voice, expressive power, as well as humour. When I met her on a Japanese TV program, she told me that she has checked out my music video, "PONPONPON", which made me extremely happy – I felt like crying.
What is the process for conceptualizing and designing your stage and video looks? Who do you work with?
When we make music videos, Nakata-san and a video director work to create imagery that captures the spirit of the song, and then a stylist designs special costumes and scenic art. With the live show, we first discuss with the stage director the whole concept – whether a circus, amusement park or musical – then expand that to the costume and the performance. I always appreciate that my staff understands what I want to achieve and makes everything a whole lot better!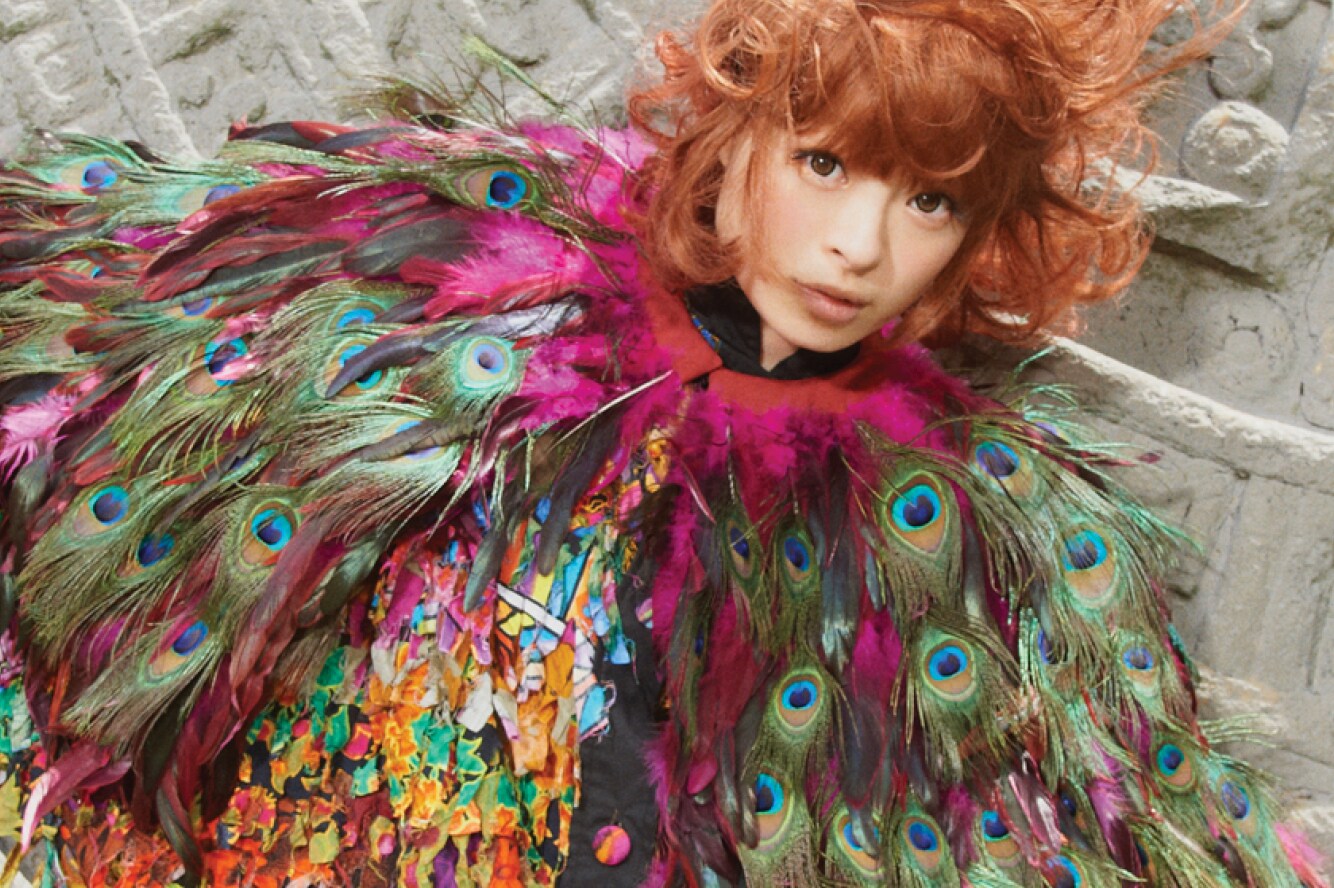 What does red symbolize to you? Black? Blue? Pink?
Red is blood… Black is the devil… Blue is water… Pink is the colour representing me.
Do you have a personal philosophy on makeup? How do you use it?
Applying kira-kira (sparkles) underneath my eyes. I am also keen on using false lashes and blending beige shades of eye shadows underneath my eyes. These days, I've been applying a dark shade of lip colour on the inside of my lips, then fading it out. Trying something a little bit more mature!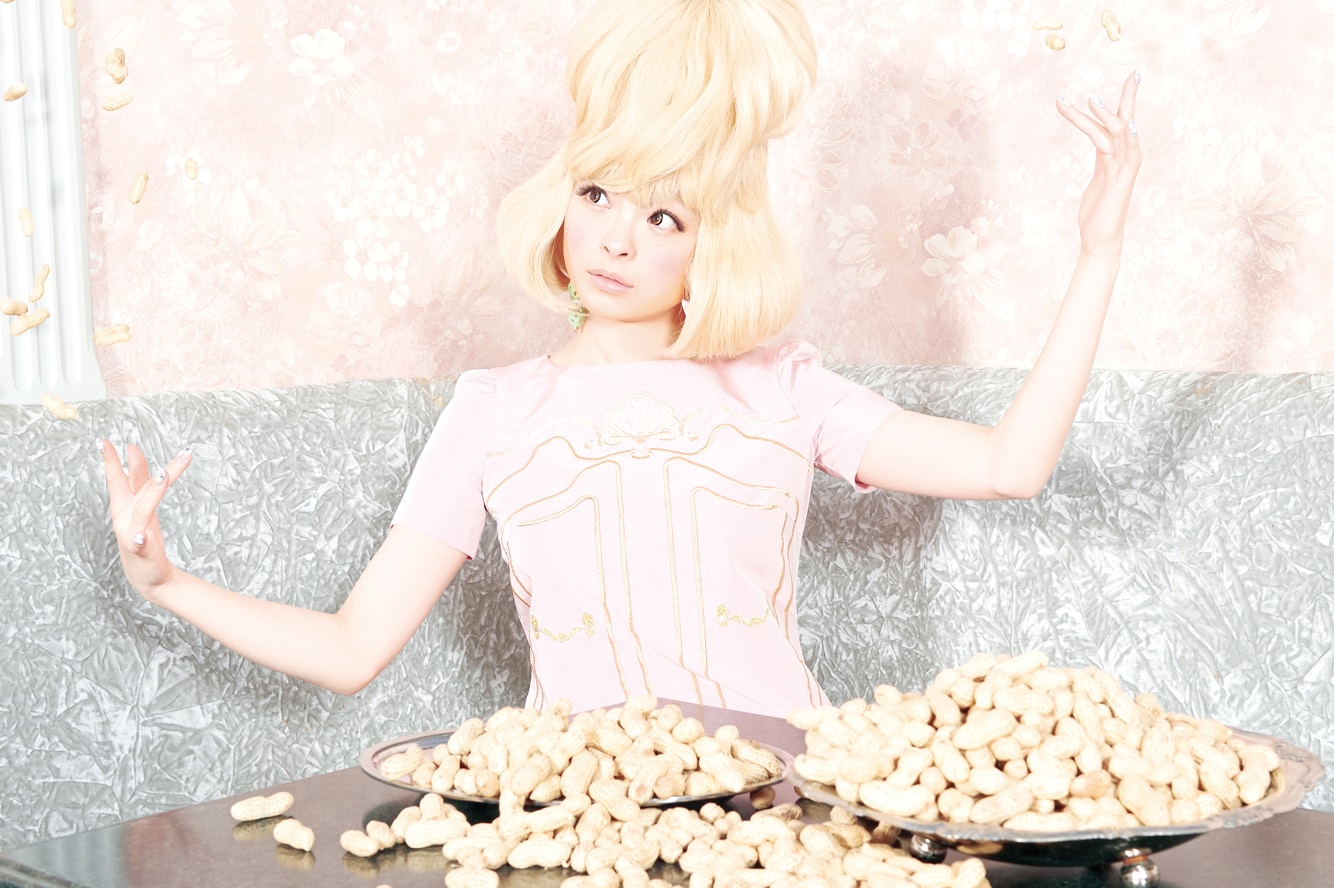 What feelings do you want to evoke when people see and hear you?
I hope the audience will forget stereotypes and be free to experience my choices as something I wanted to express about myself. I would like to betray people's expectations – in a good way, so that no one can ever define me as, "Kyary is this."
Kyary Pamyu Pamyu fans are known for their exceptional diversity. Why do you think you draw such a range of people of all ages and walks of life into your work?
I really have no idea. From elderly men and women to little children and foreigners coming to my live concerts in Japan and on my world tour, it makes me so happy. Maybe my songs are meaningless in Japanese, but they sound good when everyone is repeating the words! It might be easier for everyone to sing.
5 KRAZY KYARY FACTS
· She is inspired by horror movies, and incorporates blood, guts and eyeballs into her costumes as much as she can!
· Many of her songs start off as jingles for TV commercials
· She's also starred in several wacky commercials of her own, ranging from Nintendo to toothpaste endorsements
· Kyary is keen on cooking, especially stews, because she feels like a witch
· Her interest in extreme fashion culture was actually inspired by Gwen Stefani's song, "Harajuku Girls"