It's more than just a refreshing, hydrating facial mist – trust us.
You've no doubt heard of the iconic Fix+. Renowned for its vitamin and mineral-enriched formula (it also contains cucumber, caffeine and chamomile), this lightweight, hydrating facial mist has a multitude of uses; not only does it work to instantly give your skin a welcome boost of moisture, it also helps to soothe the skin and prolong the wear of your makeup.
With all of it's skin-loving benefits, you can't imagine that it would be able to do more but in fact, it does. We turned to M·A·C's national education manager Ocea McKenzie for her need-to-know Fix+ hacks so that you can squeeze every last drop of goodness from the bottle.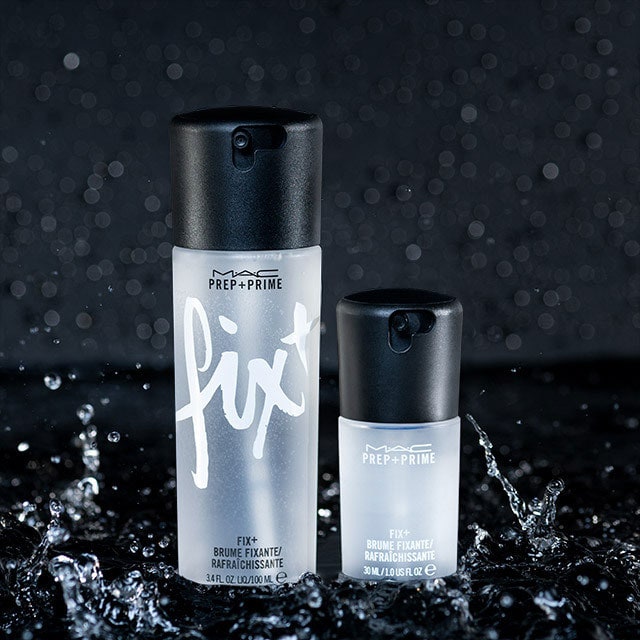 HACK #1: You can use it to touch-up your makeup and clean up liner
Ever created a flawless winged liner only to bump your arm at the last minute and send a streak of liquid across your eye? Welcome Fix+! To clean up makeup mistakes, spritz a sponge with Fix+ and softly blot it over the desired area and neatly remove any traces, explains McKenzie. To help clean up eyeliner mishaps, however, grab a clean, firm brush like the 212 Synthetic Flat Definer Brush, she says. "Spritz Fix+ onto the brush and drag it across the eye area [where you need to clean up any lines] to achieve your desired shape or to clean the area neatly."
HACK #2: You can use it to intensify powder eyeshadow and highlighter
Whether it be a richly pigmented eyeshadow or high-shine highlighter, the beauty of Fix+ is that you can mist it over your makeup brush to further intensify the pigment and shine. "Apply your eyeshadow to your brush first then spritz your brush a couple of times with Fix+ before pressing the shadow onto your lid," says McKenzie. Follow the same process for your powder highlighter, then dust it over the high points of the face or where the sun would naturally hit.
HACK#3: You can use it to manipulate your foundation finish
Ideal for winter, particularly if your skin is taking a walk on the dry side, but also perfect year-round if you prefer a more dewy, sheer finish to your foundation, you can mist some Fix+ on your bare skin prior to makeup application, or directly into your foundation to sheer it down before smoothing it onto your complexion, says McKenzie. What it does is give a sheer, more natural-looking finish to your foundation and helps to keep your skin hydrated, too.
HACK #4: You can use it to create hair-like strands in your brows
How are you at filling in your eyebrows? Do you have those pesky sparse spots scattered throughout your arches that you can't seem to fill in and still look natural? Just grab one of our Single Eye Shadows in a shade that suits you (Omega is a popular choice), and use a spritz of Fix+ on a firm brush like the 212 Synthetic Flat Definer Brush. "Dip into your desired eyeshadow, spritz your brush and apply to your brows using flicking motions," explains McKenzie. This motion helps to mimic the look of your natural brow hairs for a naturally fuller-looking finish.
HACK #5: You can use it to refresh and touch-up your makeup

"To refresh and touch up your skin or makeup, spritz Fix+ all over your face and then lightly conceal where needed, using a sponge to press it into your skin," says McKenzie. This will help to not only hydrate your complexion and keep it looking fresh and youthful throughout the day, but also helps the concealer settle and blend naturally into the skin, without appearing dry or cakey. Also, keep a Fix+ in your handbag, on your desk, and spritz whenever you need a refresh.